It's been more than a year of developments and eTryOn's pilots begun, having the first testers trying out and evaluating our apps.
Three pilot testing will be running this summer, each targeting a different end user group, aiming to recruit the most suitable testers for all three applications: VR Designer, Magic Mirror and Dress Me Up.
Pilots for VR Designer and Magic Mirror are already running and first testers have the chance to try out and evaluate current version of them. We already received valuable feedback from professional designers and artists from fashion industry who tested VR Designer. Users can access a virtual fitting room where designers are provided with a range of options, enabling them to inspect the avatar and its performed movements. This provides them even from the first stages of design with a range of outcomes that in current workflow are only available during the last stages of designing process: designer is able to see in VR how the garment will fit on virtual avatar, inspect the garments qualities and make any possible changes there might be needed before the stage of production.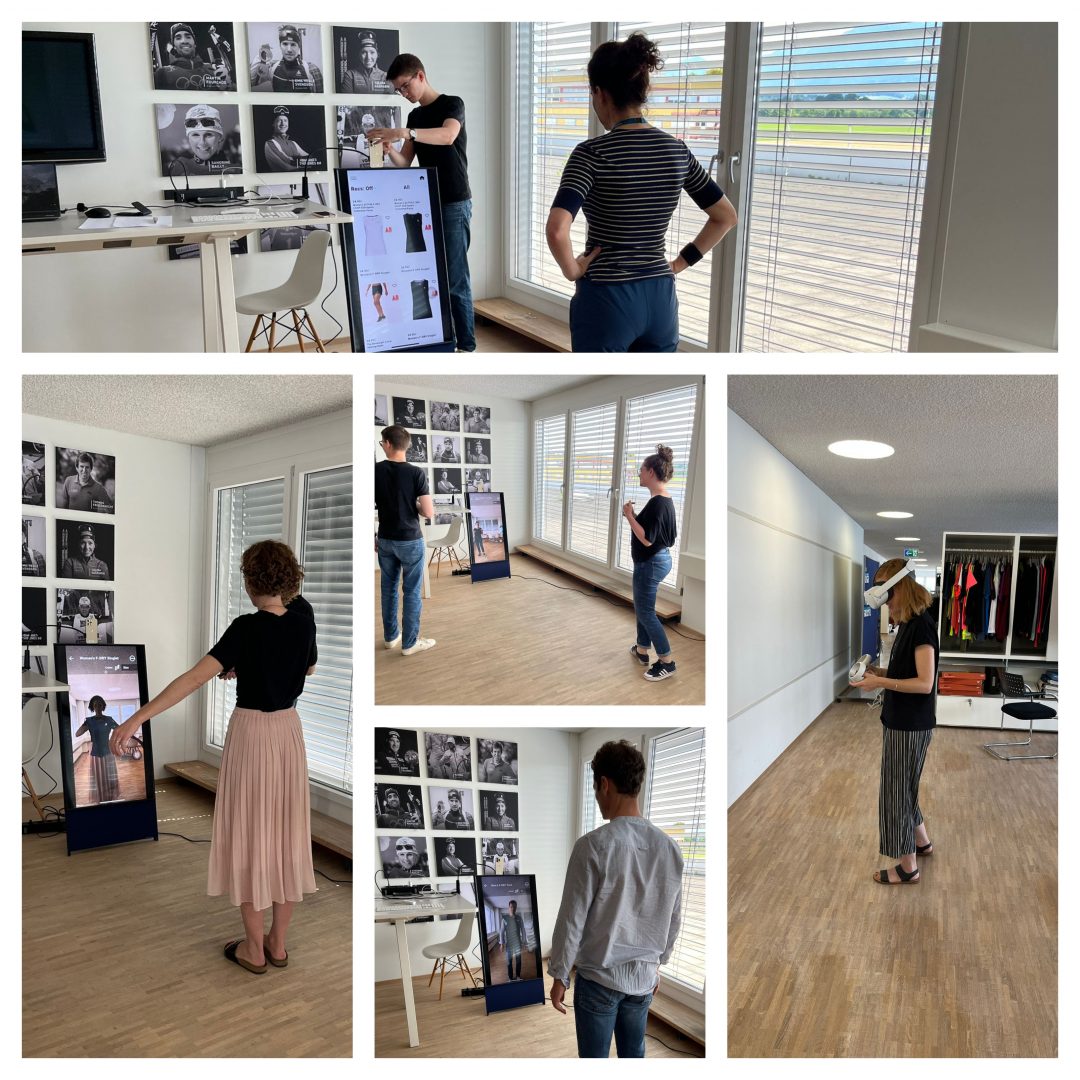 For Magic Mirror, user can navigate through a vast garment catalogue and save any preferable garment by adding it to favorites. User can choose AR – enabled garments, loaded dynamically by scrolling, which are available to inspect either in a 3D view – projected in real dimensions, through a smartphone's camera, where user can zoom and rotate with the buttons available or by physically walking left or right, or digitally try it on themselves in AR and inspect how the garment will fit on them real time.
The pilots are taking place in Odlo's headquarters in Switzerland, where all necessary hardware (VR headset and peripheral equipment, PC, iPhone, smart TV) are available in a space specifically organized for a testing, in alignment with all safety health protocols.
Dress Me Up pilots will also run this summer, where users will be able to test them remotely as any device can be used to log in. Users will download the app and register, take or upload a photo/video of themselves through their smartphone and upload it in the application, where their 3D avatar will be created and they will be able to select from a list of available clothes for the one that they want to try on. They will be able to see themselves on this outfit in various poses and animations and, optionally, share the generated content through their social media accounts.
Interested to test it yourself ? Contact us and we will send you more information on the process!