Pleased to announce that our second snapchat lens has been released!
For many years, eTryOn's industrial partner ODLO equips the successful SCOTT-SRAM MTB Racing Team: today, we are excited to release the snapchat AR lens where you can digitally try-on Odlo's Scott MTB uniform! Open the lens in your snapchat account and check how this one of a kind uniform suits on you, on real time. Alternatively, you can also find Odlo Scott TryOn lens here and directly open it on Snapchat.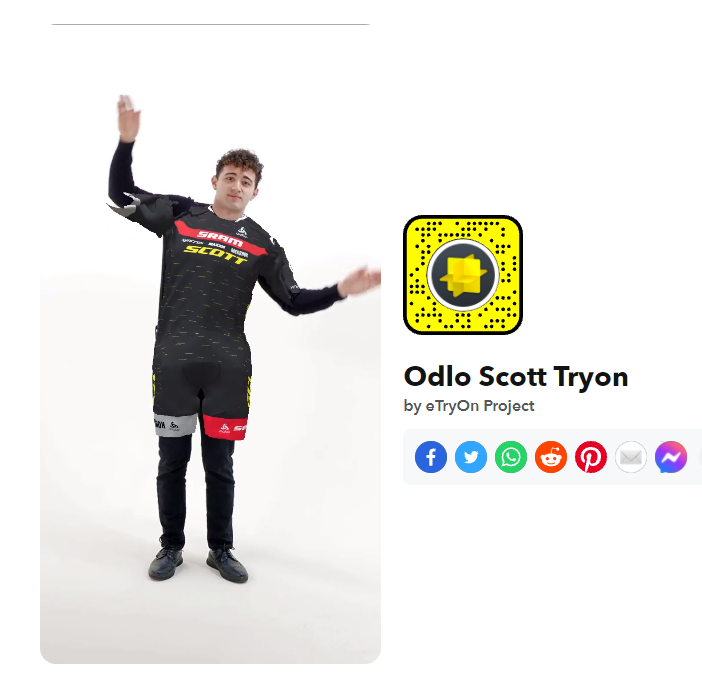 AR offers a great opportunity to bring useful fashion tech to the places consumers spend their time and attention an eTryOn focuses on XR innovative solutions: another AR lens was previously launched on Snapchat a few months ago, where users had the chance to digitally try on a jumpsuit on real time, using their mobile camera. Meanwhile, we are currently working on more exciting developments on AR and VR for customers, fashion lovers and designers.
In addition, we are glad to share more good news regarding our industrial partner Metail who has been selected as Snap Inc.'s first Fashion & Shopping Lab Fellow in GHOST, Snap's AR Innovation Lab: The GHOST fellowship promotes the development realistic AR try-on garments. More useful fashion tech solutions will definitely follow during the next months!