It's been two years of developments and Dress Me Up application is now released for public to test!
As more customers enjoy the convenience of shopping online, we're experimenting with different technologies that can bring the retail "try-on" experience in-home. Dress me Up gives the opportunity to fashion lovers to digitally try on the latest fashion collection releases and share their outfits on social media. Fashion consumers, models, influencers or fashion lovers are now able to test the beta version of Dress Me Up: they can upload their photo, choose a garment they like from a variety of digital ones, and see how this garment fits on their body – plus share the outcomes on their social media account, if they wish.
Ever wanted to see what you'd look like in a retro ski suit or in proffessional cycling clothing ? Check it out and find how explicit clothes would fit on you digitally! Take part in the testing of the Dress Me Up app by registering here: https://odlo.powerappsportals.com/dressmeup_registration/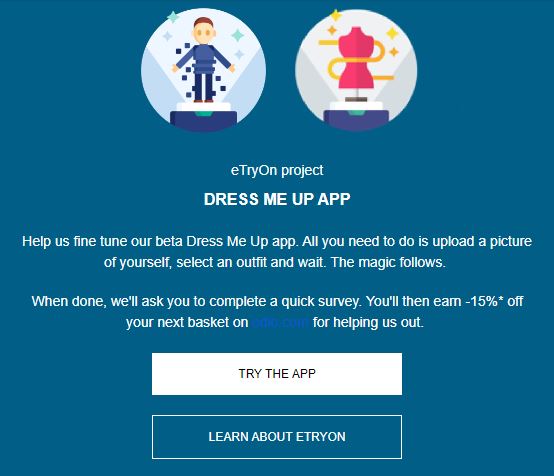 Once registered, you will receive an email with further directions on using the app
Share your experience by filling a short survey afterwards will and get a voucher code of 15% discount in your next purchase from Odlo!
Waiting for your comments and feedback!

Introductory guidelines: First time users will need to scan their body through their Smartphone (make sure someone helps you so that your body fills the scanning photo frame). Just need to wait a few minutes for the scanning to be processed and you will be ready to use Dress Me Up through web browser (in your Smartphone or PC).